(terjemahan dalam bahasa Indonesia di bawah)
I was truly in doubt whether to post this or not, but eventually I promised my students that I'd do it. This was originally written in response to Inspiring Girls International's invitation to participate in #ThisLittleGirlIsMe campaign. Also to mark the International Day of the Girl Child on October 11th. The day to remind us on the need to address the challenges girls face and to promote girls' empowerment and the fulfilment of their human rights.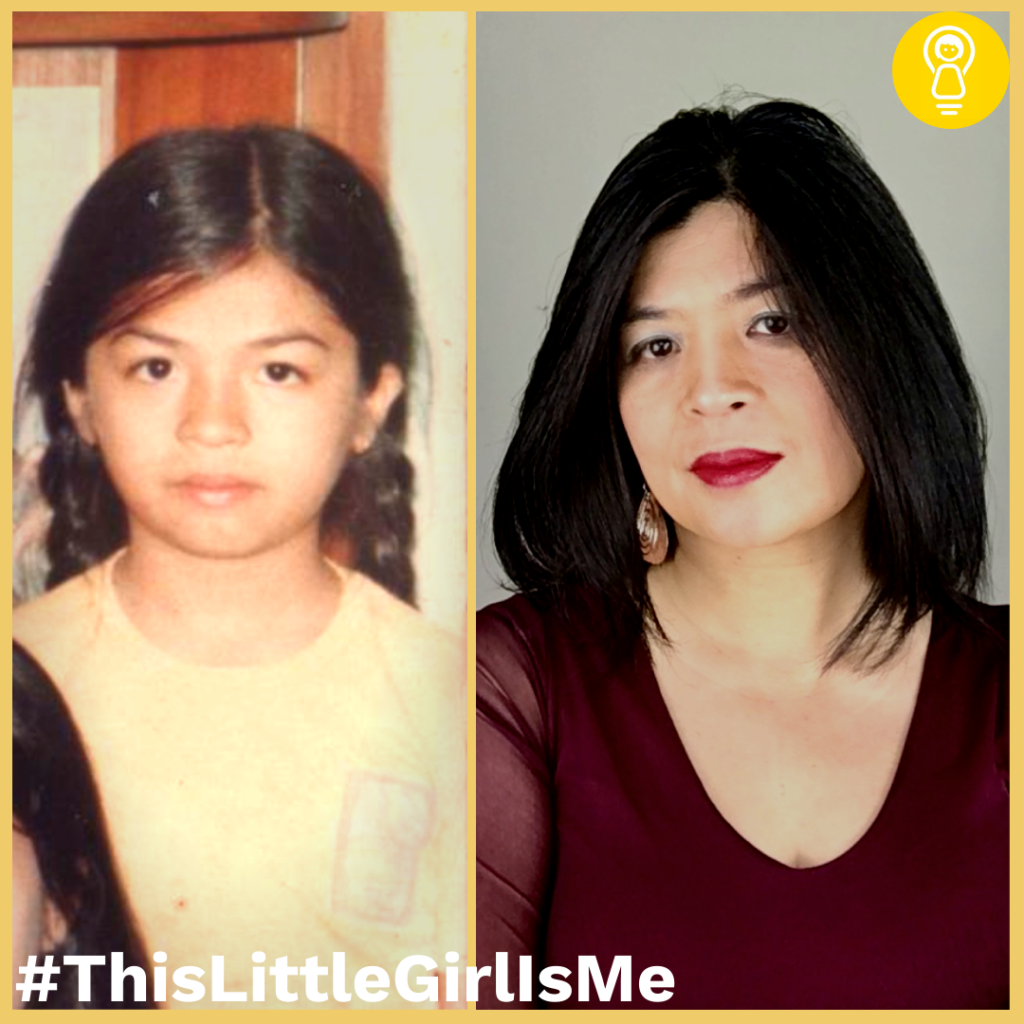 The little girl on the left loved book, excelled in school, and exceptional at math and science. And yet was labelled "naughty" because she asked curious questions, made funny comments, and occasionally skipped school out of boredom (then went to public library instead).
This little girl wrote poems, composed songs, and drew endlessly to escape her daily reality in Dayeuhkolot, Bandung – Indonesia. In this industrial flood-prone slum located near one of the world's most polluted waterways, children faced poverty, chronic illnesses, early deaths, and violence. At a young age, she was subjected to multiple forms of abuse that led her to believe that she was unworthy of love and happiness.
This little girl was a dreamer. She often wondered whether she was good enough and which path to take because the road wasn't always clear, but she never gave up dreaming. Of a happy place. Of a voyage around the world. Of being loved. Of a better life. Of being useful. Of making others happy.
The little girl on the left eventually grew into the woman on the right. A professor and Canada Research Chair, an award-winning researcher and writer, a prized and exhibited visual artist, a singer who does music, a lone walker, a globetrotter, a cancer survivor, and a tempeh-tofu lover. And, yes, she remains "naughty".
Knowing she is worthy, she is overjoyed to discover that life will only get better as she ages. Above all, she is most grateful for the privilege of being able to contribute to the well-being of others.
This little girl learned a few things growing up, here are 10 to share with other #littlegirls:
1. Be kind and do good, always. Even when it is hard.

2. Cliché but true: Be yourself, always. You're worthy.

3. Love and relationships come before material possessions. Treasure your loved ones, always.

4. Sh*t happens, even when you do the right thing. Stop blaming yourself for everything.

5. Never give 100%. Save some for tomorrow. Also, sleep and fun are important, too.

6. Dream big (or small). But don't forget to wake up and act on it.

7. Don't take yourself seriously. Have a sense of humour, always. It keeps you sane during trying times.

8. It's okay to dress up and get dolled up. Doing it doesn't make you look less smart.

9. Find your space of tranquility–music, art, or else–and be really good in it. It'll help finding your light during the darkest times.

10. Takes time to enjoy small things in life. And be grateful, always.
This little girl is me.
Why am I telling you this? I have never considered myself inspirational, but in recent years, I have felt increasingly compelled to encourage girls and young women to pursue a bright future of their own. The research found that 70% of girls feeling more confident about their futures after hearing stories from women role models.
Thank you for the invitation InspiringGirls. I am humble to add my story to #ThisLittleGirlIsMe campaign.
---
Saya ragu ketika diundang untuk berpartisipasi dalam kampanye #ThisLittleGirlIsMe ini, tapi berjanji pada mahasiswa2 di kelas bahwa saya akan ikut serta. Saya posting tulisan saya di sini, pada Hari Anak Perempuan International. Hari yang mengingatkan kita tentang perlunya mengatasi tantangan yang dihadapi anak perempuan & mempromosikan pemberdayaan dan pemenuhan hak asasi mereka.
:::
Gadis kecil di sebelah kiri suka membaca, berprestasi di sekolah, dan cemerlang dalam bidang matematika & sains. Namun dicap "nakal" karena sering melontarkan pertanyaan aneh, bersoloroh penuh canda, dan kadang bolos sekolah karena bosan (lalu kabur ke perpustakaan umum untuk membaca).
Gadis kecil ini suka menulis puisi, mengarang lagu, dan menggambar tanpa henti, untuk melarikan diri dari kenyataan hidup di Dayeuhkolot, Bandung-Indonesia. Terletak dekat salah satu sungai paling tercemar di dunia, di kawasan industri tekstil ini anak-anak menghadapi kemiskinan, penyakit kronis, kematian din, dan kekerasan. Di masa kecil, dia mengalami pelbagai bentuk kekerasan yang membuatnya merasa tak layak mendapatkan cinta dan kebahagiaan.
Gadis kecil ini seorang pemimpi. Meski sering meragukan kemampuannya sendiri dan tak yakin akan jalan yang harus ditempuh, dia tak pernah berhenti bermimpi. Tentang: tempat yang penuh kebahagiaan, kehidupan yang lebih baik, mengelilingi bumi, dicintai sepenuhnya, menjadi manusia berguna & membahagiakan orang lain.
Gadis kecil di sebelah kiri tumbuh menjadi wanita di sebelah kanan. Profesor dan Canada Research Chair, peneliti dan penulis, seniman visual, penyanyi yang bermusik, pejalan kaki, penjelajah dunia, penyintas kanker, dan penggemar tahu/tempe. Ya, dia tetap "nakal".
Dia selalu merasa cukup dan yakin bahwa kehidupannya akan senantiasa menjadi lebih baik seiring bertambahnya usia. Di atas segalanya, dia sangat bersyukur berada di posisi yang dapat berkontribusi pada kesejahteraan, pertumbuhan, dan kesuksesan orang lain.
Gadis kecil ini belajar beberapa hal tentang kehidupan & kini berbagi 10 tips untuk gadis2 kecil lain:
1. Selalu bersikap dan berbuat baik, bahkan ketika hal tersebut sulit dilakukan.

2. Selalu menjadi diri sendiri. Kamu berharga.

3. Cinta dan persahabatan lebih penting dari harta benda. Selalu utamakan orang yang kau cintai.

4. Tragedi terjadi, bahkan ketika kamu melakukan hal yang benar. Berhentilah menyalahkan diri sendiri.

5. Tak perlu memberi 100%. Sisakan untuk hari esok. Tidur dan bermain juga penting.

6. Bermimpilah. Tapi jangan lupa untuk bangun & bertindak.

7. Selalu sediakan ruang untuk humor. Ia akan membantumu di masa-masa sulit.

8. Berdandan dan bersolek tidak membuatmu terlihat kurang pintar.

9. Temukan ruang kedamaianmu—bermusik, melukis, menari, dll—dan kuasailah. Ia akan menerangimu di masa-masa kelam.

10. Luangkan waktu untuk menikmati hal-hal kecil dalam kehidupan. Bersyukurlah senantiasa.
Gadis kecil ini adalah saya.
Mengapa saya berbagi tulisan ini? Saya tidak menganggap diri saya inspirasional tetapi saya telah terinspirasi untuk mendorong anak-anak perempuan untuk mengejar masa depan cerah mereka sendiri. Riset menemukan bahwa 70% anak perempuan merasa lebih percaya diri tentang masa depan mereka setelah mendengar langsung pengalaman wanita dewasa.
Terima kasih atas undangannya @inspiringgirlsint. Semoga sumbangan cerita saya ke dalam kampanye #ThisLittleGirlIsMe ini berguna.